NUST Emblem
It can only be used on official letterheads, flags, envelopes, visiting cards, university ID cards, journals, crests/ shields, certificates, transcripts, medals, backdrops, university main entrance doors (sand blasted or laser engraved), rostrums and the official university sports kits.
The emblem is to be used with letterheads only.
​This emblem, in the same configuration, is to be used with business cards and envelopes only. 
Standard size
The emblem appears on all A4 stationery and collateral at a width of 25 mm and 72.5 mm, as shown below.
Minimum Size
The emblem may be proportionally scaled to a minimum width of 12mm and 35mm, as shown above, where space constraints mean the standard size logo may not be used. 
Exclusive Zone
As a general rule, in order to maintain its integrity, when the emblem is presented in its standard form in stationery and electronic applications, a clear space equal to the height of the rising sun – the exclusion zone – must be left.
Also, other graphic elements, such as photographs, illustrations or typography should not interfere with or encroach on the exclusion zone.
Emblem Dont's
Under no circumstances is tampering allowed with the Emblem. Some usual mistakes are mentioned here that can be termed as tampering.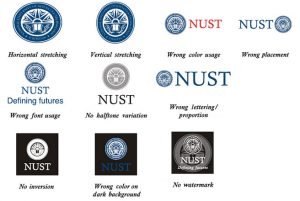 Logo
The rules shown in this section will ensure that the NUST logo is always presented in a consistent and clear way. Whenever the logo is used, it should be presented in such a way that it is immediately recognized. For maximum prominence, wherever it appears, four presentations are available.
NUST Blue Version
This is the standard version and must be used wherever possible. It is deemed suitable for most applications (print, advertising and media).
The signature with positioning statement 'Defining futures' is to be used with posters, magazine, brochures, flyers, streamers, standees and billboards. This can also be used for branding advertisements.
No-branding print advertisements are used to provide the readers with a particular piece of information, such as Admission Ads, Employment Ads, Expression of Interest Ads, Tender Ads, and Conference/ Seminar/ Workshop/ Symposium Ads.
Branding print advertisements are used to strengthen and improve the overall image of an entity and do not necessarily contain any particular piece of information for readers.