THE NUST BRAND
Being a member of the diverse and vibrant NUST community is a uniquely transforming experience. The institution's foundations are firmly entrenched in the spirit of lifelong learning and enquiry, critical thinking, and an urge to serve the nation.
The NUST brand stands for prestige and excellence. The brand enjoys recognition, ownership, loyalty and recall amongst our target market and the community at large, so much so that it has found a well-acknowledged niche for itself in the global arena. Succinct and true-to-NUST-image depiction of the university's astounding journey through a shared and well-thought-out visual identity and diction is critical to achieving its futuristic vision. The NUST Marketing & Communications (M&C) Dte thus strives to reinforce and enhance the brand's identity and image, drawing upon the set of creative and synchronised branding principles and guidelines. The ultimate aim of these endeavours is to ensure our brand has an instant and lasting recall amongst all stakeholders and target audience, including students, prospective students, alumni, industry, donors, Government, international partners, and so on.
The NUST Brand Book is an attempt to streamline collective efforts of the NUST community to visually reinforce our identity, and is designed to serve as a manual for the promotion of NUST's brand image through conventional and unorthodox vehicles. The book comprises guidelines for usage of NUST logo, colour palette, typeface recommendations, and much more.
We invite you to acclimatise yourselves with these guidelines, and join us in promoting a unified NUST identity!
---
NUST OFFICIAL SEAL

The official seal was created in 2008. The seal includes the Book of Knowledge that lights up the darkness, through the Vine of Wisdom which bears two crescents and two stars facing towards the East and the West respectively, the diversity of disciplines and the fruit of knowledge. The rising sun symbolises change, hope and enlightenment, and emanates inspiration. From the light of knowledge, four birds take flight from the nests of light, and spread out to the four corners of the world, symbolising the quest for spiritual gratification through knowledge and wisdom. The NUST Blue represents the future. It carries all the characteristics of the colour blue, like dignity, grace, freshness, professionalism, prudence and resolve.
NUST Official Seal with Typeface

---
NUST SIGNATURE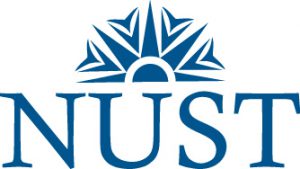 NUST signature is a combination of the lettermark "NUST" and the symbol of rising sun, sunrays and the birds spreading out to the four corners of the world, symbolising the quest for spiritual gratification through knowledge and wisdom.
---
THE NUST ICON
The NUST icon was adopted to provide a distinctive symbol for a wide variety of uses, both institutional and athletic. The mark is a modern version of the block letter N stylised in the university colours of blue, grey, mustard and beige.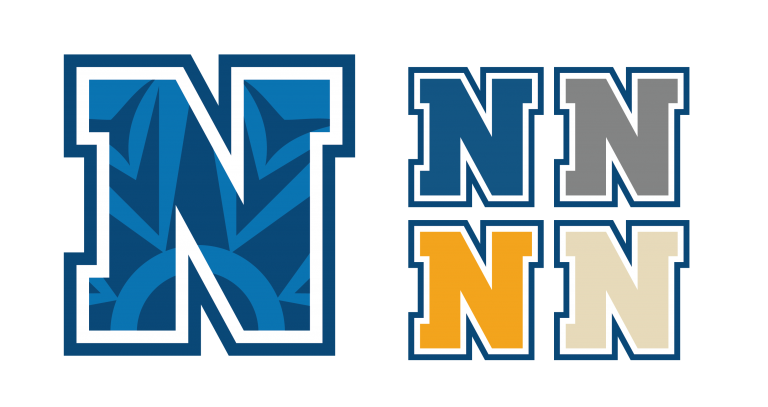 ---
SECONDARY PALETTE
The colours in our supporting palette were chosen to complement our primary palette of blue and white, providing additional range to the brand experience.
---
TYPOGRAPHY
This is the official font that is used in the typeface of NUST.
---
PUBLIC NOTICE
National University of Sciences & Technology is a comprehensive academic and research-led university with national and global recognition. NUST delivers quality higher education and a research-intensive environment to its students and faculty through its nationwide campuses, spread across 5 cities of Pakistan.
National University of Sciences & Technology (NUST) is a body established under The National University of Sciences & Technology Act, 1997. NUST is a registered proprietor of different sets of Intellectual Property Rights (IPRs) associated or connected with the name / mark 'National University of Sciences & Technology' or 'NUST' including trademarks, service marks, copyrights and domain names in Pakistan under the Trade Mark Ordinance, which are actively being exploited by NUST either alone or in combination with other marks, words, devices or features for its benefit. The NUST emblem, signature and icon, as well as logos of associated NUST bodies, institutions and associations are shown below.
It is advised that any use of the afore referred Intellectual Property Rights, whatsoever the nature of the said use may be, is strictly prohibited without prior official approval, in writing, and confirmation of NUST authorities. This includes any means of communication whatsoever, including print, electronic, digital and social media, in any manner whatsoever. Moreover, the public is cautioned, in their own interest, to refrain from making any transactions, deal(s) or contracts of any kind with online portals, social media accounts / groups / pages, online groups, individuals, or entities established, created and maintained under an impression of association with NUST without first confirming it with NUST. The use of the IPRs trademarks, copyrights, service marks and domain names, if used in violation of this notice, shall be taken as an act without lawful justification and an absolute infringement of the rights of NUST. Furthermore, NUST and its affiliated institutions and establishments reserve the right to take strict legal action in accordance with the law, including criminal action.
In accordance with the National University of Sciences & Technology Act, 1997, NUST has a designated department to receive notification of alleged IPRs infringement occurring in the nust.edu domain. If any individual or organisation finds any evidence of NUST IPRs is being infringed, please notify our designated departments as specified below.
NUST INTELLECTUAL PROPERTY & LEGAL AFFARS (IP&LA) OFFICE
Tel: +92-51-9085-6235
Address: Center for Innovation & Entrepreneurship (CIE), National University of Sciences & Technology (NUST), Sector H-12, Islamabad, Pakistan.
Email: [email protected]
NUST Marketing & Communications Office
Tel: +92-51-9085-1468
Address: Room 206, Main Office Building, National University of Sciences & Technology (NUST),
Sector H-12, Islamabad, Pakistan.
Email: [email protected]
---
NUST SEAL, SIGNATURE AND ICON 
---
NUST SIGNATURE
---
NUST ICON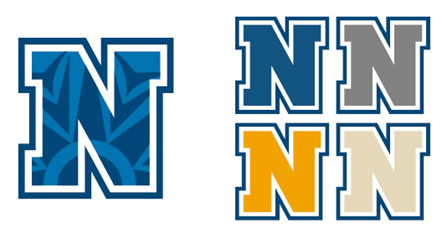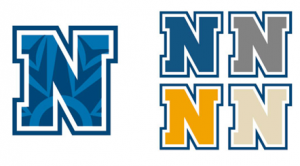 ---
LOGOS FOR NUST ALUMNI ASSOCIATION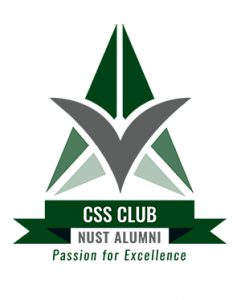 ---
LOGO FOR NUST ENDOWMENT FOR EDUCATIONAL DEVELOPMENT (NEED) INITIATIVE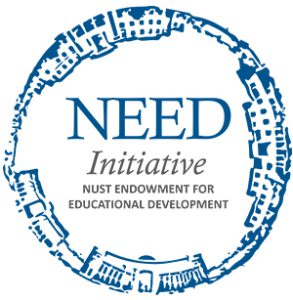 ---
LOGO FOR NUST HOLDINGS